5058 Jeanette Dr.
Marianna, FL 32446
(850)394-4908
mflcpsunit@gmail.com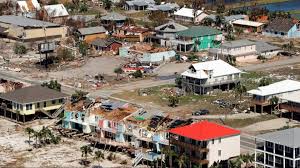 Activities
Mid-December of 2019, the service unit in Baton Rouge, LA moved to Marianna, FL to help with rebuilding from the Hurricane Michael that swept through in October of 2018. As the fourth strongest hurricane to make landfall in the contiguous United States, Hurricane Michael ripped through with devastating 160 mph winds, snapping trees for many miles, toppling them onto homes and businesses, wreaking havoc with roofs and causing subsequent rain damage. An estimated 23,000 tarps have been distributed for damaged roofs. Marianna is 58 miles from Mexico Beach where Michael made landfall. The weather tower here recorded upwards of 150 mph winds before toppling from the force of it.
Currently, the young men here are working with the Chipola Baptist Association, accepting the challenges of chainsaw work, roofing, drywall, and flooring.
The town of Marianna, "City of Southern Charm", has a population of around 7,000. The people are friendly and appreciative of the help they're receiving. Meritts Mill pond nearby is spring-fed and crystal clear. Natural caverns have been recently reopened after suffering damage from the hurricane. This community of springs and rivers with friendly people promises to be an enjoyable place to give of your time to help those in need.
History
Marianna was founded in 1828 by Scottish entrepreneur Scott Beverage, who named the town after his daughters Mary and Anna. the population was estimated at about 7,091 in 2018
One may be astonished by the lingering destruction from hurricane Michael. This storm made landfall on October 10, 2018 with wind speeds of 155 mph.